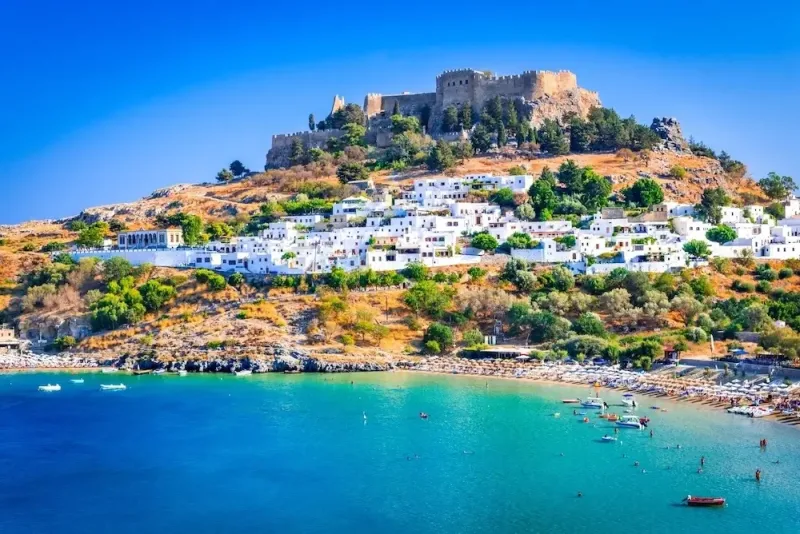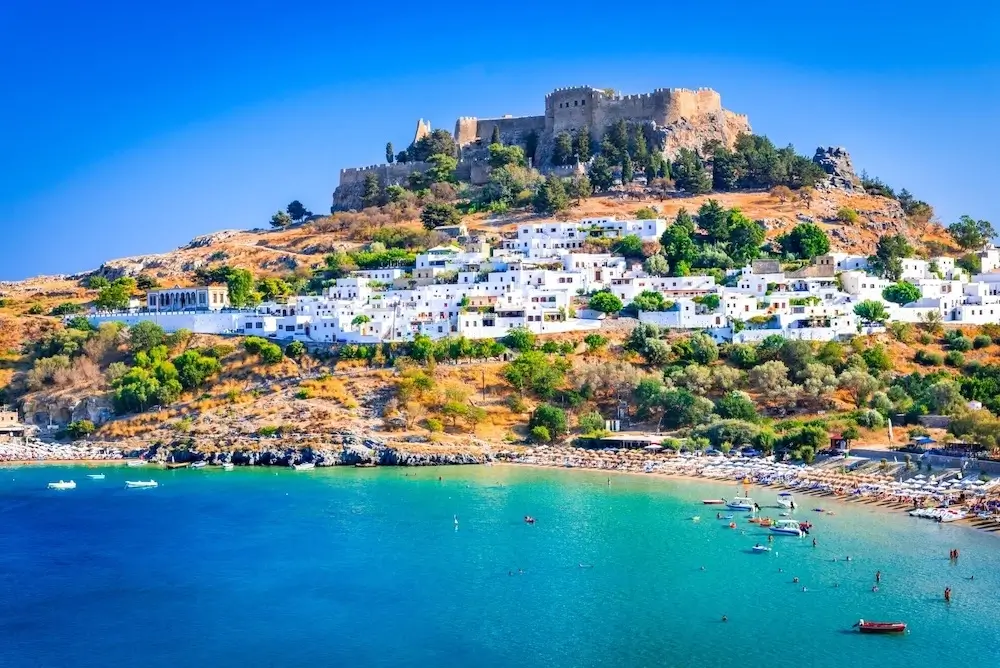 A Glorious 7-Day Sailing Itinerary: Rhodes to Rhodes – A Dodecanese Dream
Embarking on a sailing adventure from Rhodes offers an exquisite exploration of the Dodecanese islands. This 7-day itinerary encapsulates the perfect blend of adventure, relaxation, and cultural immersion. Let's set sail from Rhodes and discover the hidden gems of the Aegean Sea.
Embarkation Rhodes/Disembarkation Rhodes
Day 1  : Rhodes marina-Simi   23 miles
Day 2  : Simi-Nisiros(Palos)   32 miles
Day 3  : Nisiros-Kos   14 miles
Day 4  : Kos-Tilos   35 miles
Day 5  : Tilos-Chalki   17 miles
Day 6  : Chalki-Rhodes marina   37 miles
Day 7  : Check-out
Day 1: From Rhodes Marina to Simi – A Picturesque Beginning (23 miles)
Setting Sail from Rhodes
Your journey begins at the historic Mandraki Marina in Rhodes. As you depart, embrace the views of the medieval city and the famous Colossus of Rhodes site.
First Stop: Simi
Your first destination is the charming island of Simi. This leg of your journey, covering 23 miles, offers a delightful introduction to the Aegean's turquoise waters.
Exploring Simi
Stunning Harbors: Simi is renowned for its picturesque harbor, painted with a palette of neoclassical pastels.
Local Delicacies: Savor the local cuisine, especially their seafood, in one of the waterfront tavernas.
Day 2: Simi to Nisiros (Palos) – A Voyage to the Volcano (32 miles)
Journey to Nisiros
Today's 32-mile sail takes you to Nisiros, a volcanic island known for its dramatic landscapes.
Experiencing Nisiros
Volcanic Crater Visit: Explore the island's famous volcano and its lunar-like craters.
Palos Beach: Anchor near Palos, a serene spot ideal for an evening swim.
Day 3: Nisiros to Kos – Unveiling Historic Charm (14 miles)
Short Sail to Kos
A relatively short journey of 14 miles brings you to Kos, an island rich in history and beauty.
Discovering Kos
Ancient Ruins: Visit the ancient Agora and the Tree of Hippocrates.
Vibrant Nightlife: Kos Town offers a lively nightlife scene, perfect for those looking to dance the night away.
Day 4: Kos to Tilos – Embracing Tranquility (35 miles)
Sailing to Secluded Tilos
Your fourth day involves a 35-mile sail to the tranquil and less-traveled island of Tilos. This journey promises serene landscapes and an escape from the hustle of more frequented islands.
Tilos: A Haven of Peace
Natural Splendors: Explore Tilos's lush landscapes, home to numerous bird species and natural trails.
Livadia Beach: Relax on the pristine beaches of Livadia, perfect for a quiet day under the sun.
Day 5: Tilos to Chalki – Navigating to Nostalgia (17 miles)
A Short Trip to Charming Chalki
On day five, a shorter 17-mile sail brings you to Chalki, an island that exudes a sense of timelessness and nostalgia.
Exploring Chalki
Traditional Architecture: Stroll through the streets of Nimporio, the only village, adorned with neoclassical houses.
Crystal-Clear Waters: Swim in the crystal-clear waters of Chalki's secluded bays, offering perfect snorkeling spots.
Day 6: Chalki to Mandraki Marina (Rhodes) – The Return Journey (37 miles)
The Last Leg: Returning to Rhodes
Your sailing adventure culminates with a 37-mile journey back to Mandraki Marina in Rhodes. It's a day to reflect on the amazing experiences and sights of the past week.
Last Day at Sea
Sailing Bliss: Enjoy the final hours on the Aegean Sea, embracing the freedom and tranquility of sailing.
Rhodes Old Town: On arrival, consider a visit to Rhodes Old Town, a UNESCO World Heritage Site, to conclude your journey with historical exploration.
Day 7: Cherishing Memories and Check-out
Reflections and Farewells
Your final day is not just about check-out procedures but about reflecting on a week filled with incredible sights, sounds, and experiences. It's a time to cherish the memories made and the bonds strengthened during your sailing adventure in the Dodecanese.
Preparing for Departure
Check-out Process: Ensure all belongings are packed, and the boat is left in good condition as you prepare to disembark.
Last Goodbyes: Say your farewells to the crew and fellow travelers who have shared this remarkable journey with you.
Post-Charter Recommendations
Before you leave Rhodes, consider spending some extra time exploring this historically rich island.
Exploring Rhodes
Medieval Wonders: Wander through the streets of Rhodes Old Town, where history is etched in every stone.
Beach Relaxation: If time allows, relax on one of Rhodes' beautiful beaches, a perfect way to end your vacation.
Your sailing holiday from Rhodes to Rhodes is more than just a vacation; it's an expedition that acquaints you with the diverse beauty and culture of the Dodecanese islands. From the volcanic vistas of Nisiros to the serene shores of Tilos, every stop has offered something unique. As you leave, you carry not only souvenirs but also tales of the sea and the timeless allure of these Greek islands.